Pickering Interfaces Releases New Edition of the Book - "PXImate" - A Practical Guide to Using PXI
An 86-page reference book providing an overview of the PXI standard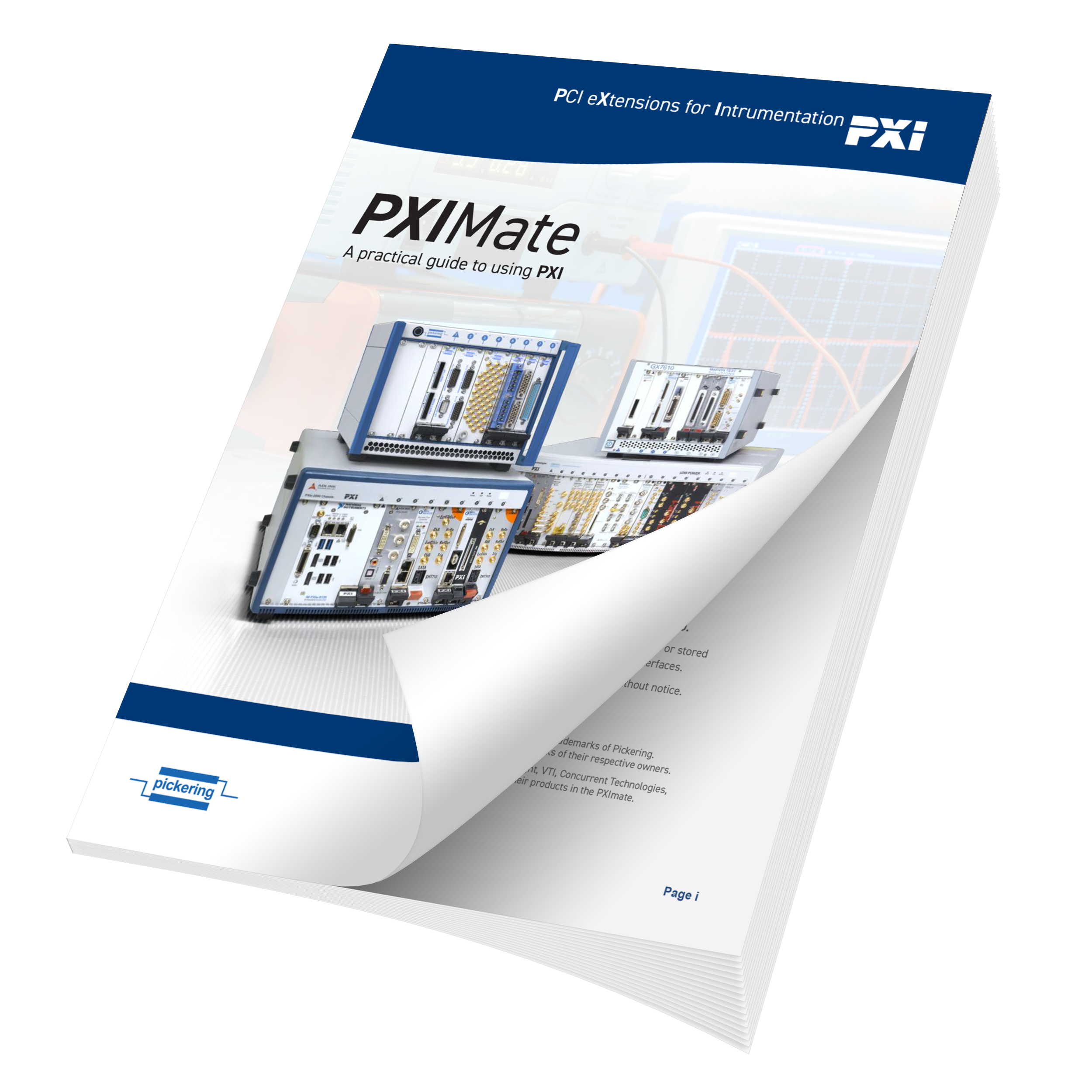 Clacton on Sea, UK – Pickering Interfaces, a leading provider of modular signal switching and instrumentation for use in electronic test and simulation, announces the release of the fifth edition of its book; "PXImate" – A Practical Guide to Using PXI.
PXImate, the only PXI reference book available, is an 86-page book that provides an overview of the PXI (PCI eXtensions for Instrumentation) standard along with useful information about the technology behind the PXI switching and instrumentation modules a typical chassis can contain. The book will help those new to PXI systems get a general understanding of the standard and it also serves as a useful reference for the more experienced user. The PXImate book is a living document that Pickering Interfaces continues to develop in support of the PXI standard and its future evolution. This new edition has been substantially updated and contains information on the latest changes in the PXI specification, including PXImc (PXI Multi Computing) and the Trigger Management System.
"PXI has emerged as a major force in the test equipment and automation industry. Our PXImate book is an important reference document for any engineer who is starting to work with PXI," says Bob Stasonis, Pickering's Sales and Marketing Director and a member of the Board of Directors for the PXISA (PXI Systems Alliance). "This is Pickering's contribution to the educational needs of the test and automation industry, providing accurate information about the specification and how you interact with PXI in a test/automation environment."
The PXImate book is available in hardcopy or as a download, to request your free copy, please visit Pickering Interfaces' website – pickeringtest.com/pximate or contact your local representative.
About PXI
The PXI (PCI eXtensions for Instrumentation) specification defines a modular PC-based instrumentation platform for measurement and automation systems. PXI is both a high-performance and low-cost deployment platform for measurement and automation systems. These systems serve applications and industries such as communications test, manufacturing, military, aerospace, machine monitoring, automotive and industrial test.

PXI is based on the CompactPCI and CompactPCI Express standards defined by the PCI Industrial Computer Manufacturers Group (PICMG) and offers all of the benefits of the PCI architecture including, performance, industry adoption and COTS technology. PXI has a rugged mechanical form-factor and integrated timing / synchronization that is used to route synchronization clocks, and triggers internally. You can select 3U or 6U modules from multiple vendors and easily integrate them into a single PXI system. 

The PXISA is an industry consortium that defines and manages the PXI system specifications, including hardware and software requirements – ensuring system interoperability and ease of integration. For more information, go to www.pxisa.org.
About Pickering Interfaces
Pickering Interfaces designs and manufactures modular signal switching and instrumentation for use in electronic test and simulation. We offer the largest range of switching cards in the industry for
PXI, LXI, PCI and GPIB applications
as well as a full range of supporting cables and connectors. Pickering Interfaces' products are specified in test systems installed throughout the world and have a
reputation for providing excellent reliability and value
. Pickering Interfaces operates globally with direct operations in the US, UK, Germany, Sweden, France, Czech Republic, and engineering support in China, together with additional representation in countries throughout the Americas, Europe and Asia. We currently serve the automotive, aerospace & defense, power generation, energy and commercial electronics industries. For more information on signal switching and instrumentation products or to contact sales, please visit
www.pickeringtest.com
.
Press Contact - Kimberly Otte
+1 978-455-0376

[email protected]